Teresa Devine daughter of Dr. Hennessy Devine and Mary Devine was born on April 15, 1839. She was one of ten children, from a noble family in Tipperary, a town in Ireland. It was unfortunate that the family lost its wealth and property during the religious persecution that rocked her country. Teresa was obliged to leave her homeland for higher studies and seek employment. Providence led her to Bayonne, France, where she took up a teacher's post. An inner urge later led her to dedicate herself to the service of God as a religious. Mother Mary Veronica had just opened her novitiate and so welcomed Teresa Devine with much joy and expectation. It was the year 1868. To begin with, this young, Irish lady stands out as one of the first postulants of The Third Order Regular of Our Lady of Mount Carmel at Saint Joseph's Novitiate, Bayonne. She was a cultured person, outstanding and well-versed in English and of a prolific mind. She gladly shared her knowledge and skills with the other novices. Their attention was directed to the Indian Missions for which they were receiving instruction and training. The Carmelite Superior General, Very Rev. Fr. Dominic saw in Teresa Devine a promising candidate and future collaborator of the Foundress. He urged Mother Mary Veronica to train her well in the spirit of her vocation and help her to acquire profound humility and blind obedience.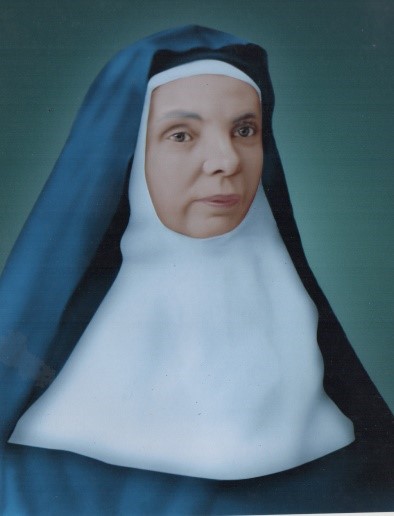 MOTHER MARY ELIAS OF JESUS (1839-1933)
June 10, 1870

She made her profession and was sent to the Indian Mission at Mangalore. As Sr. Elias of Jesus left the novitiate, little did she imagine that one day along with Sr. Marie des Anges, she would spearhead the Congregation that Mother Veronica had established, and raise it to great heights.

1880

When the Mangalore diocese changed hands with the Jesuit Fathers, Mother Elias opted to work under the Carmelite missionaries of Quilon. Permission was granted and Mother came to Trivandrum and established the Holy Angels' Convent.
From then on, despite difficulties and adverse circumstances it was a big success story. The convent proved to be a boon, both to the church and the people of Trivandrum with accolades for the school.
1885

Cent percent success in the exams, recognition for the Matriculation Exam

1894

Establishment of the Normal School

1899

Ranks for students, High School raised to a Second Grade College affiliated to the Madras University

1900 onwards

Praise from the Maharaja of Travancore who sanctioned Rs. 1200 annually.
On the mission front, Mother's sympathy for the destitute and the poor resulted in the empowerment of girls who were taught to earn their livelihood. They were married off to respectable Christian men and their families were baptized.
From Trivandrum, Mother moved to Australia to teach in the College of our Lady of Mercy at Bunbury, where she continued her missionary work. Later in 1917, she volunteered to render help to the Sisters of Abbot Catalan in St. Joseph's Orphanage for Aborigines where she worked selflessly till the very end. At the age of 94, after having rendered "great service to the Congregation" as OCD Prior General Very Rev. Fr. Dominic had prophesied, Mother Elias went to her heavenly abode in 1933.
For sixty-five years this "Irish Lady", as Mother Veronica fondly used to call her, had carried out the work of the Almighty and she was buried in New Norcia Cemetery, Western Australia, in her brown Carmelite habit. As we scan her life story, we discover that she played a key role in the origin and development of the Congregation of the Carmelite Religious.